Challenge yourself to experience the legendary Amatola Hiking Trail
Immerse yourself in the breath-taking beauty of the Amatola Mountains by taking on the Amatola Hiking Trail, widely regarded as South Africa's most challenging and immersive multi-day-hutted hiking experience.
Prepare yourself for an adventure like no other as you traverse rugged terrains, dense forests, and awe-inspiring landscapes. The Amatola Hiking Trail offers a truly unique and unforgettable journey, providing hikers with an opportunity to connect with nature, test their limits, and create lasting memories.
Amatola Trails makes the actual hike the only tough part about the Amatola Trail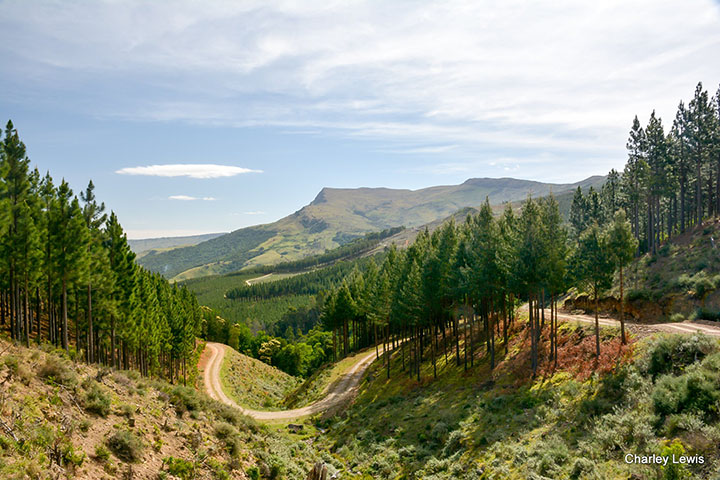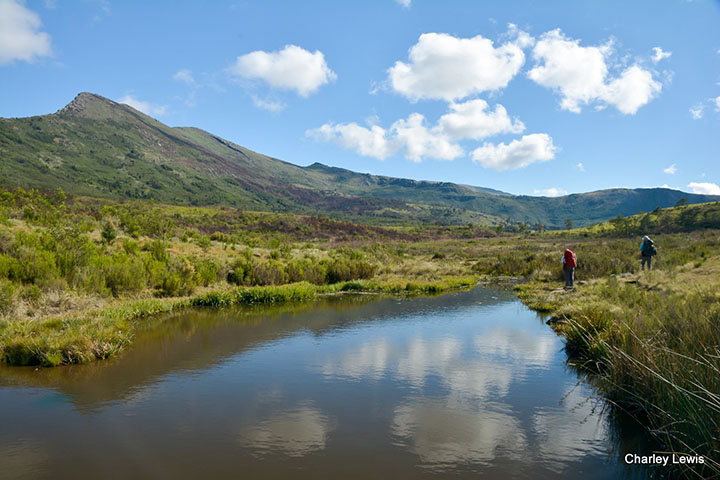 We offer two trail options to suit different preferences and time constraints
6 Day Amatola Trail
Embark on a 100km journey with 4900m of climbing. This trail will take you through stunning landscapes, enchanting forests, and magnificent waterfalls. The 6-day adventure provides a life-changing experience for those seeking to be challenged physically and mentally
R2650 per adult and R1620 per Schoolchild
Includes:
6 Day and 5-night Hiking Permit and overnight huts.
Pre and Post hike dorm accommodation in Hogsback
Shuttle service to the start of the trail (2-hour drive)
Safe parking facilities
Hikers' assistance
2 Day Zingcuka Loop
Perfect for those with limited time, this 42km trail offers 2000m of climbing. You'll still get to experience the beauty of the Amatola Mountains, including breath-taking views and refreshing swimming holes, in a shorter timeframe
R1000 per adult and R800 per Schoolchild
Includes:
2 Day and 1-night Hiking Permit and overnight hut
Pre and Post hike dorm accommodation in Hogsback
Shuttle service to the start of the trail (4km drive)
Safe parking facilities
Hikers' assistance
Our packages are designed to provide you with a seamless hiking experience, covering essential aspects such as permits, accommodations, transportation, parking, and assistance. Whether you choose the 6 Day Amatola Trail or the 2 Day Zingcuka Loop, you can expect a well-organized and enjoyable adventure in the Amatola Mountains.
Fitness Requirements: The Amatola Trail is challenging and requires participants to be fit and capable of hiking long distances and enduring varying weather conditions.  It is more important to be fit, than to have hiking experience.
Trail Availability: The trails are open from September to May each year.
Recommended Hiking Duration: Be prepared for hiking approximately 20km+ and up to 10 hours a day.
Payment: The payments need to be paid in 2 x instalments. 
The first payment is your non-refundable deposit which covers Pre and Post hike Dorm Accommodation, Shuttle to the Start of the trail, Safe Parking and Hikers Assistance and needs to be paid within 7 days of booking.
The second payment is for your hiking permits and overnight huts.  This is payable directly to DFFE no later than 1 month before the trail commences. 
Permits: Permits are required to hike on the trails and are organized for you. They cover the hiking trail and overnight huts and absolutely everything on the trail.
Pre & Post Hike Accommodation:
Dorms at Away with the Fairies Backpackers: Included in the package price, suitable for hiking groups and single hikers.  There is a 4, 6 and an 8 bed dorm.
En-Suite/Self-Catering at Away with the Fairies Nature Lodge: Optional upgrade for hiking couples who want more privacy (+R800pp min2).
Camping at Away with the Fairies Campsite: available for those with their own camping equipment.
Shuttle to the start of the trail: a shuttle service from Hogsback to the start of the hiking trail (approx. 2 hrs).
Safe Parking: Parking for your vehicle is available at Acorn House, a gated property next to Away with the Fairies.
Hikers Assistance: A comprehensive pre-hike briefing is provided, including information about the trail, a Trellidor Key, and WhatsApp assistance during the hike.
Optional Extras
Customize your experience with these extras
SATIB – Emergency Extraction Insurance
Cost: R100 per hiker.
Provides R500,000 extraction insurance and R500,000 medical insurance during extraction.
An app with an emergency button is issued to those with the insurance.
Payment can be made at the briefing, where the QR code will be provided.
Read more here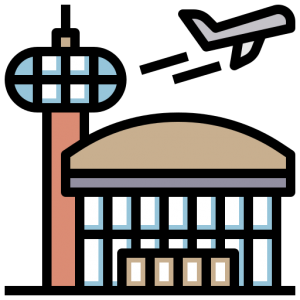 Service available between Hogsback and East London Airport.
Cost: R2000 for 1 to 6 passengers or R3000 for groups of 7 to 12 passengers each way.
Recommended to book flights to arrive at East London Airport and depart after the trail around lunchtime or early afternoon to avoid long waits at the airport.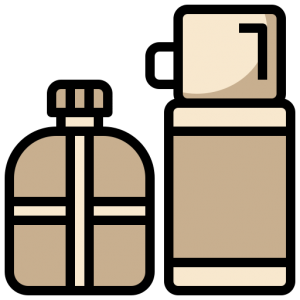 Slack Packing/Goodie Drops
Available at overnight huts.
Price varies based on the difficulty and time for 4×4 vehicles to reach each hut.
Hut 1 – Gwili Gwili Hut – R2000
Hut 2 – Dontsa Hut – R2000
Hut 3 – Cata Hut – R2500
Hut 4 – Mnyameni Hut – R2500
Hut 5 – Zingcuka Hut (Pizza Hut)– R750.
Price is per drop, not per person.
Goods are pre-packed and stored in plastic boxes at Away with the Fairies, delivered to the overnight hut.
Unwanted goods cannot be taken back, and waste disposal guidelines are provided.
Can deliver goods sold at Away with the Fairies, including pizza, soft drinks, and beers, for the Zingcuka Hut (Pizza Hut) drop.
Frozen and non-refrigerated goods only.
Service of the overnight hut may be provided if there is time.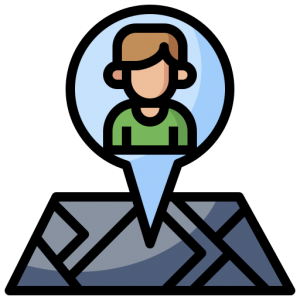 Non-Emergency Extractions & Accommodation
If extraction from the trail is needed, one of their 4×4 vehicles will be used.
Prices vary depending on the collection location.
Maden Dam: – R2000
Gwili Gwili Hut: – R2000
Dontsa Forest Station or Hut: – R2000
Cata Forest Station R2000
Cata Hut: – R2500
Mnyameni Dam: – R2000
Mnyameni Hut: – R2500
Day 5 Wolf River dirt Road: -R1000
Zingcuka Hut: – R750.
Additional charge of R500 per hour applies if waiting or finding the hiker is required.
Extraction Prices will be charged even if a Goodie Drop is being done simultaneously.
Pre and Post hike accommodation
Away with the Fairies Nature Lodge and Backpackers
The Pre and Post hike accommodation is at Away with the Fairies in Hogsback, The standard Dorm Accommodation that is included in the package is located at the property's main house which is the backpackers.   The backpackers has 3 different dorms (4,6 and 8 sleeper), a lounge with fireplace, kitchen and 2 bathrooms, and is next door to The Green Dragon Café.
The Green Dragon Café
The onsite Green Dragon Café is open 7 days a week and offers a hiker friendly menu for your pre and post hike meals, including the option of an early morning breakfast before the shuttle leaves.  
Pizza and drinks can be supplied if you opt for a Goodie Drop for delivery at Pizza Hut (Hut 5)
The Green Dragon Café also sells bespoke Amatola Trail merchandise including: hiking sticks (R75 each), Mamma Alles dehydrated hiking meals, buffs clothing, gas bottles, badges and maps.

Overnight Huts
Along the trails, you'll find wooden overnight huts that provide a resting place for hikers. Each hut is equipped with bunk beds, mattresses, trellidors for security, hot showers from outdoor donkey boilers, and basic braai areas. Please note that there is no electricity available, but firewood is provided. Each hut can accommodate a maximum of 20 people.
6 Day Amatola Hiking Trail
Day 1: Maden Dam to Gwili Gwili Hut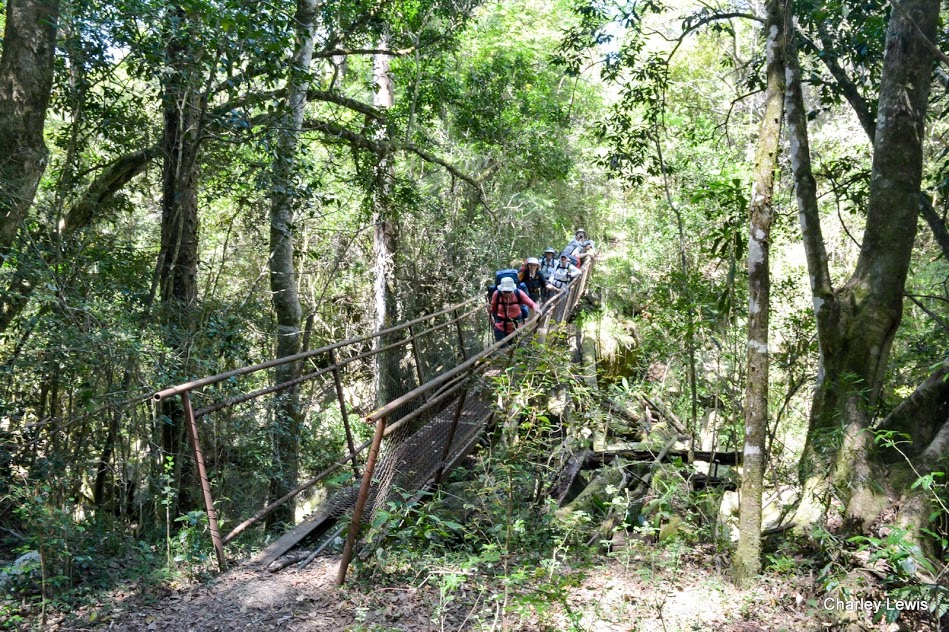 Distance: 11.9km
Ascent: 763m
Description: The shortest day of the trail, but still a great day's hiking. You will climb over 750m of vertical ascent through the Pirie indigenous forest. Gwili Gwili Hut offers stunning views, a separate braai area, and hot showers from a donkey boiler.
Day 2: Gwili Gwili Hut to Dontsa Hut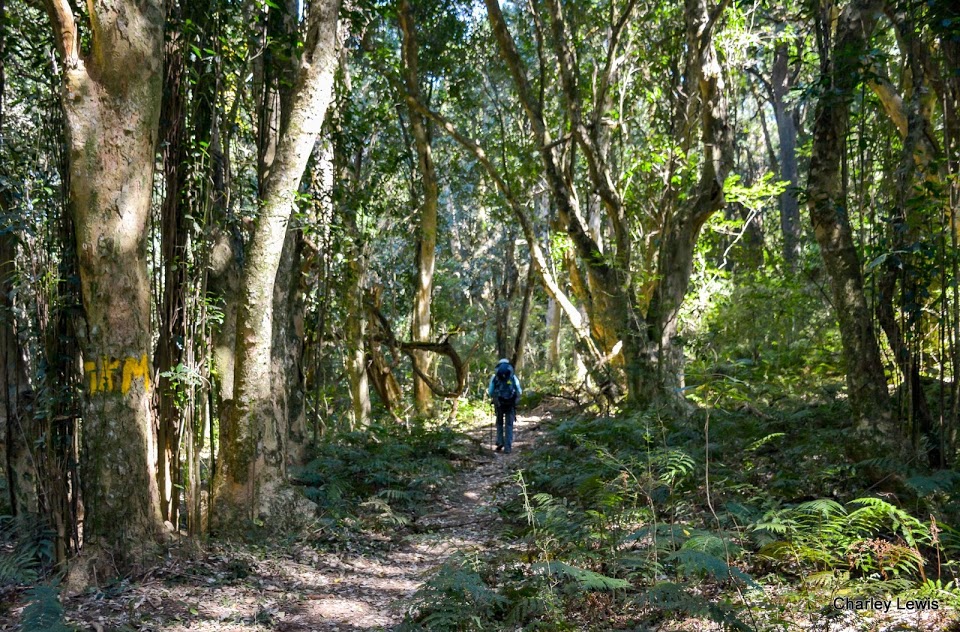 Distance: 19.14km
Ascent: 633m
Description: The day involves traversing through indigenous forest with undulating terrain. It can be exhausting for those who are not physically fit, and hard on the knees. Carry enough water from the first stream after 1.2km to the overnight hut. Dontsa Hut is located next to a stream, with a braai area and hot water from a donkey boiler. There is also an impressive waterfall nearby.

Day 3: Dontsa Hut to Cata Hut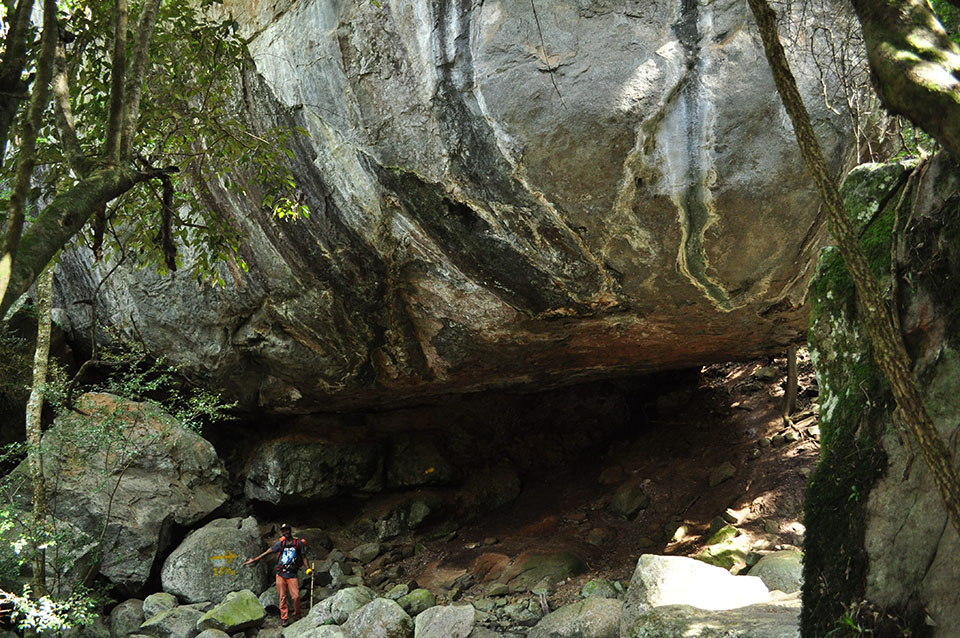 Distance: 20.62km
Ascent: 1024m
Description: This is the longest and toughest day. You leave the indigenous forest behind as you ascend to the plateau with macchia grassland and wildflowers. Be cautious of the slippery rocks at the waterfall at the 4km point after rainfall. You will pass through the Hovald Forest, descend past the Cata Forest Station, and face a leg-destroying 550m vertical ascent climb in 5km through the enchanted Waterfall Forest.
Day 4: Cata Hut to Mnyameni Hut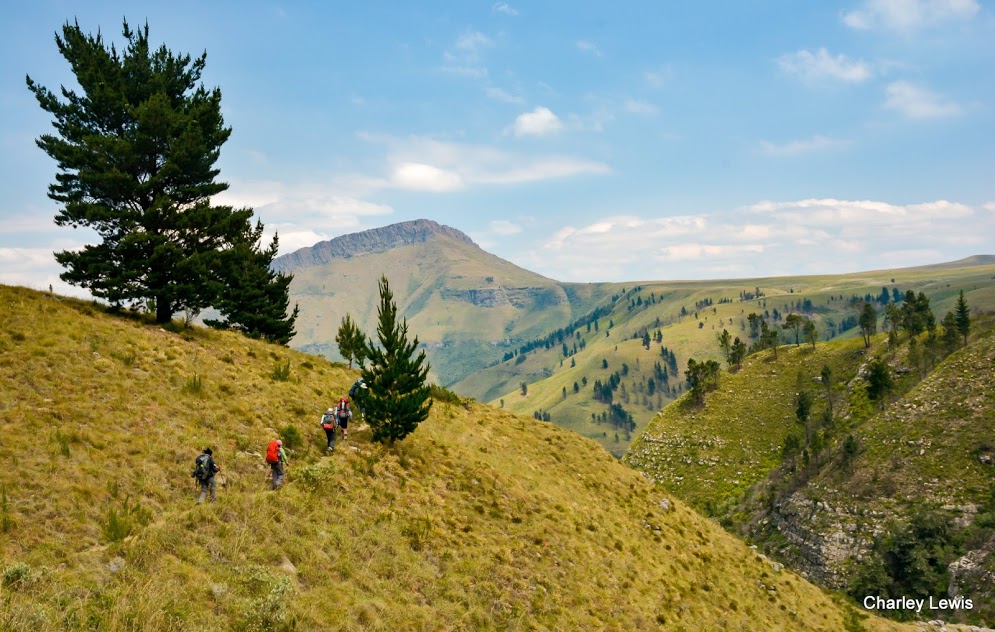 Distance: 14.56km
Ascent: 634m
Description: The second shortest day but considered the most beautiful. Start with a steep 600m ascent to the highest point on the trail, the Mighty Geju Peak (1880m). There is an alternate route if the peak is misty. Cross a meteorite crash site (if you're not a geologist it's a meteorite) and descend steeply through the enchanting Malan Forest (1000m descent) into the Mnyameni Gorge, crossing the stream 11 times. Relax and swim in the rock pools along the way. Mnyameni Hut is isolated and may not always have running water, but there is a stream nearby for washing and drinking.

Day 5: Mnyameni Hut to Zingcuka 
Distance: 19.42km
Ascent: 991m
Description: A superb day with many swimming spots. Most of the day is spent in open areas except for the last few kilometres through the dense Schwarzwald Forest. Zingcuka Hut is popular and provides a braai area and hot water from a donkey boiler.
Day 6: Zingcuka Hut to Tyume River
Distance: 16.2km
Ascent: 955m
Description: The final day begins with fantastic waterfalls in the Schwarzwald Forest. You will then face a long ascent of 950m, almost reaching the main Hogsback peak (1845m), before descending into the Tyume River basin and the end of the trail. You can continue walking 4km to Hogsback or take the Amatola+ route through the Auckland Nature Reserve, passing Madonna and Child Waterfall and The Big Tree, and ending up in the garden of Away with the Fairies.
Day 1: Hogsback to Zingcuka Hut
Distance: 22km,
Ascent: 1041m •
Description: Your journey begins with a short shuttle from Away with the Fairies to the start point, located just past Madonna and Child Waterfall. Embark on an adventure by following a steep path along a stream and hiking between Hog 1 and Hog 2 Mountains. Join up with Day 5 of the Amatola Trail and follow the stream, passing by mesmerizing waterfalls and refreshing swimming holes. Traverse along a cliff path that offers breath-taking views, then descend a steep precipice into the indigenous Schwarzwald Forest. Finally, reach Zingcuka Hut where you will spend the night. This day covers approximately 22km of intense terrain and high altitude, making it suitable for fit and well-prepared hikers.
Day 2: Zingcuka Hut to Hogsback
Distance: 16km,
Ascent: 955m •
Description: On the second day of the Zingcuka Loop, you will embark on the final leg of the 6-day trail. Begin by ascending the back of Hog 1 Mountain, skirting the side of the peak, and gradually making your way down towards Hogsback. Along the way, be captivated by the unbelievable views that surround you. Follow a stream down a steep mountainside, passing by enchanting waterfalls and inviting swimming pools, until you reach the end of the 2/6-day trail. At this point, you have two options for further exploration: continue with the Amatola+ route, which takes you through the Auckland Nature Reserve, allowing you to visit Madonna and Child Waterfall and The Big Tree, ultimately ending at the Away with the Fairies Viewpoint. Alternatively, you can choose to follow Wolfridge Road back into Hogsback. This day involves a long hike, characterized by high altitudes and challenging terrain.
Important Information and Tips
Packing list for your 6-day trek
Here are the essential items to include
Clothing
Good quality hiking boots
3+ pairs of thick outer socks
2 pairs of thin liner socks
3+ pairs of underwear
3+ pairs of quick-drying t-shirts
1 long-sleeve t-shirt or thin fleece
1 pair of quick-drying trousers
1 pair of shorts
Thick fleece
Knee-length gaiters
Quality rain jacket/poncho and waterproof trousers
Beanie, gloves, and thermals (top and bottom)
Hat (peak cap or lightweight full-brim hat)
Swimming costume
Tracksuit pants, t-shirt, and flip-flops to wear at the hut
Toiletries
Toothbrush and toothpaste
Toilet paper and lightweight trowel in a water-tight zip-lock pack
Facecloth
Biodegradable body/face wash and other personal toiletries
Quick-drying towel or kikoi
Other
Good quality backpack
Backpack waterproof inner liner or black bags
Backpack rain cover
Pocket knife or multi-tool
Dry bags for sleeping bag and clothes
Sunscreen, lip balm, and insect repellent
Headlamp and spare batteries
1-litre water bottle plus 2L bladder
Plastic packets for rubbish
Zip-Lock packets (for keeping electronics dry and other uses)
Biodegradable laundry detergent, dish soap, and washing sponge/scourer
Power bank and spare batteries
Lightweight clothesline and washing pegs
Hiking poles (available at Away with the Fairies)
Sunglasses and hard case
Sleeping/Shelter Gear
Sleeping bag (expect cold nights)
Inflatable pillow or pillowcase stuffed with excess clothing
Cooking
Gas stove, gas canister & cooking pot
2 x Lighters in separate, water-tight locations
Firelighters
Plastic plate, mug & cutlery

Dishcloth
Emergency/First Aid
Painkillers/anti-inflammatories (paracetamol &
ibuprofen)
Plasters, bandage,strapping tape and gauze
Antiseptic cream
Antihistamine (Non-drowsy)
Anti-chafe cream (use daily to prevent hip-chafe)
Burn Shield

Strepsils

Waterless hand soap

Rehydrate

Rennie Antacid

Zam-Buk

Duct tape
Emergency/space blanket
Food (Ideas/Suggestions)
Breakfast:
Lunch:
Seed-loaf rolls or crackers (ration per day)
Cheese spread triangles (ration per day)
John West tuna sachets
Trail Mix
Dinner:
Mama Alez dehydrated meals
Additional Items/Notes
Thin liner socks help reduce the chance of blisters.
The food items listed are guidelines for lightweight non-perishables. Adjust according to personal preference.
If space and weight allow, consider bringing a fresh apple every day as a treat.
Aim for a maximum backpack weight of 20% of body weight for adults (15% for children), considering fitness and experience.
Remember to review the packing list and adjust it based on your personal needs and preferences. Keep in mind the weight limitations and prioritize essential items. Proper preparation and a well-packed
Frequently Asked Questions
Can we make a Donation to keep the Huts up to spec?
Absolutely, and it's extremely welcome!!! The roads getting to the overnight huts are extremely challenging, and it is prohibitively expensive keeping vehicles which are capable of getting to all the huts in extreme weather, on the road. It is also very expensive to keep the huts in a condition that is suitable for hikers to enjoy, which is an ongoing challenge. Goodie Drops and Extractions help, but don't cover the costs, so if you would like the trail to improve and are in a position to make a donation, then please contact us at amatolatrails@gmail.com.
What are the huts like?
The huts are constantly in a changing condition and are by nature very basic. The huts have bunks with mattresses and a trellidor that locks at night, there is also an axe, braai facilities, firewood, long drop or flushing toilets.
Is there hot water and showers?
There is hot water at most of the huts provided by lighting fires under donkey boilers. It is a big task to produce hot water, with cutting wood for kindling and building a fire which can be tricky in wet conditions. Sometimes it is worth the effort though!
Can I hike Alone?
I am afraid that due to the nature of the trail, intermittent cell reception and remoteness the minimum number of hikers is 4.
Can Children do the hike?
The hike is very long and very tough. No children under the age of 15.
When is the best time of the year to hike the trail?
The best time to do the Amatola Trail, in my opinion, is autumn and spring with May being generally the best month although beware of early snow. Summer can be very hot and very cold and very wet – but then again it can also be absolutely perfect. Autumn and spring have less chance of the extremes. Winter is the dry season, but there is the chance of snow and the days are shorter so the trail is closed for June, July and August.
Do I have to carry all my water?
No, not all. There is water most of the way along the trail with only day 2 being a concern where you will need to fill up at the first stream around 2 to 3 litres for the day. The water is safe to drink all along the trail. There are no villages above the trail so the water is safe to drink untreated, but if you are worried then better safe than sorry as you never know what is in the stream further up. After heavy rain the water can be very muddy, so you can filter through your clothes or bring a filter with you if the forecast is bad.
Do I have to carry all my own food?
Yes, but we offer Goodie Drops (Below)
Is there porterage?
Kind of, but no. As an extra we offer
GOODIE DROPS
where we can drop off supplies at any of the overnight huts – but we don't offer a full Slack-Packing / Porterage service. You bring your Room-Temp and/or Frozen goodies to us when you arrive and store them and then we drop them at the overnight huts.
Your goodies may be waiting for you at the hut, so don't count on us being able to take anything from the huts that you no longer wish to carry.
We can supply Warm Pizza and Cold Beer and Cool Drinks for the end of Day 5 at
PIZZA HUT
.
Read more
here
What time do we have to start in the mornings?
I would recommend getting up before sunrise and be ready to hike by 6am. The days are long and there is lots to experience along the way. Leaving early allows you time to enjoy the places that you want to spend time at while getting to the huts before dark. There is lots to do once you get to the huts, so best to get there mid afternoon.
How fit must I be?
You don't need to be a super-athlete, with hikers of all ages (15+), shapes and sizes complete the trail regularly. It does however help to be a physically active person, and be capable of hiking up to 10 hours a day on 6 consecutive days.
Will our group have the trail to ourselves?
Not necessarily. The larger your group, the less likely there will be other hikers on the trail with you. For smaller group bookings, then there may be other groups booked at the same time and sharing the trail and huts, especially during peak hiking seasons.
Can we leave rubbish at the huts?
I'm afraid not. There are litter bins at each hut, but due to the challenge that the Dept. of Forestry face getting to the huts to empty them, we ask that all rubbish is carried out with each hiker. All paper and cardboard can be burnt and plastic rinsed out and carried to the end.

Indemnity
Amatola Trails offers only a service and no physical product and works as an independent Booking Agent linking Hiking Permits, Accommodation, Shuttle Services, Parking Venues and offering advice for the Hikers Assist – and as such cannot be held responsible or liable for any injury, death, loss, cancellation or unforeseen circumstance coming from any of these products for whatever reason or under whatever circumstance. All advice given before, during or after the Amatola Trail is taken completely at the hikers own risk.
Cancellation Policy
COVID-19 – If the trail is not open when your hike is due to commence then it will be postponed to a future convenient date (as dictated as being available by The Department of Forestry and Fisheries and Environment, or if no such date is known then moved exactly one year into the future, at no penalty to the hiker.  We regret that no refunds of deposits are available. 
The 25% deposit paid upon booking is non-refundable under any circumstances.  Any payments made in full result in the extra 75% (over and above the deposit) is fully refundable if cancellation is made 30 days or more before the trail is due to commence.  Cancellation made within 30 days will result in all payments being lost.  Please remember that bookings can be postponed and the hikers can be transferred.
Conditions*
Click here to read conditions
Friends of the Amatola Trail
With it's world famous bath on the edge of a cliff and friendly staff Away With the Fairies Backpackers is your best destination for a fulfilling Hogsback experience.
Check out their website over here
Having moved from East London to Kleinemonde in January 2008 Dave saw the opportunity to start a canoe trail on the Kleinemonde West River. The canoe trail was established in October 2008
Check out some awesome hiking and canoe trails over here
Hiking South Africa aims to serve and grow the South African hiking community as a central, national community resource.
Check out Hiking South Africa here for info on all things related to hiking in South Africa
Join a network of conscious travelers and let Kamooni guide you through your adventure. It's a easy way to find amazing destinations
look for their app on Google Play and iOS App Store
Images © Daniel Cornick © Charley Lewis ©
Mark Eifler